When you squish two people into a 225 sq foot dorm room and expect it to magically be clean and organized 24/7 while both students are stacked with classes all over campus, trying to blend in and have a bit of a social life, working to get into organizational clubs, fraternity's and sorority's….Well think again!
Simplify is the keyword here. Your dorm room closet is no abundance of space, let's be real your dorm room itself is the size of a closet. Utilizing this space will make or break the rest of this room. Lots of people say to buy those hanging shoe organizers for storage, though you just don't have that luxury of space keep the shoes on the floor, utilize that closet as much as possible for what it is meant for, "Hanging Clothes".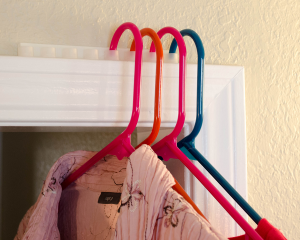 Using accessories like the HangerStation will help keep those clothes on the door and off the floor, which is why we love them. Especially when you're laying out tomorrows outfit, don't let it get wrinkle and get ruined use the HangerStation.
Don't bring your whole bedroom with you when first moving to college, pack lite, you will be happy you did. Once settled in, create a list of must-haves based on your dorm life. One that always seems to work is a collapsible laundry hamper with a strap for carrying as most likely you'll be dragging that thing to the laundry room once a week.
Don't forget the easily organized bathroom caddy or bag as you will not have your own bathroom in most all dorms. I've known a lot of students who actually like to use a small plastic bucket to carry all of their toiletries in, seemed to work very nicely for them. Now those hanging shoe ranks work great over the door and you can use them for much more than shoes. The serious space saver is the under the bed storage type bins, you just got to have them.
If you can get that desk near the window it will make for some more relaxed studying and you can use up all that space on the window sill as well. Don't forget those earplugs or good headphones and your favorite ipod as we all know how loud those dorms can get when you are trying to relax or study.
We hope this helped a bit amidst the big dorm life transition to make things even a little easier and get your creativity ????? ??????????? ????? ? ????????? ??????? flowing What types of things do you use, or do to make dorm life easier for yourself or your kids?