OK So we all dream of this laundry room…
 
…but have this laundry room.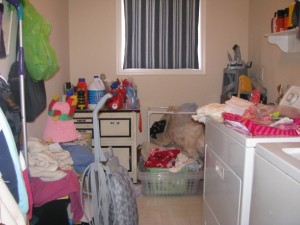 There are a few basic tips you can use to organize your space.
 
Purge!  Your laundry room is NOT a storage unit.  If you need a storage unit, get one.  If you don't need all the junk in your laundry room, start throwing it out.  If you have anxiety about throwing things out, watch an episode of "Hoarders."  You'll be throwing out things in no time.
Divide and Conquer.  Now that all of your junk is thrown away, here's the fun part.  Which goes where?  Instead of having piles of laundry on the floor get a collapsible 3-bin laundry sorter so you can divvy up your whites, reds and colors!  Then get bins or baskets for your detergent, stain cleaners, dryer sheets, and even a bin for things you found in pockets!  We love bins with labels so that it's clear what goes in which basket!
Color Coordinate.  It may sound silly, but your room will look more organized if it has a coordinate color scheme.  Buy your organizing baskets and laundry baskets in the same color.
Utilize Your Space Effectively.  If you don't have any cabinets, build temporary ones or shelves so that your laundry items are readily ????????? ??????????? ? ?????? accessible  Be sure to keep stray items hidden in baskets.  The less you see, the cleaner it looks! Whether you have room for a drying rack or not a hanger station is perfect to hang over your laundry room door!
 
What things do you do to keep your laundry room organized?