As some of you might not know the biggest culprit of your utility bills are not the TV, Computers and Lights. Instead The Washer, Dryer, Refrigerator and Freezers are the power suck and thus being the largest drain on your wallet when it comes time to pay those utility bills. For this reason we like to hang dry our clothes, not to mention some more delicate or special pieces of clothing require hang drying. This can save the longevity of your clothing and also save you a few bucks in the wallet. Let's quickly go over a few small tips that might help you out.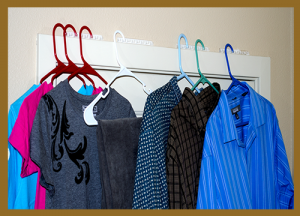 We're biased (of course) but advise on making sure you have a couple HangerStation's mounted and ready to go, for easy hang drying. A much more affordable, easy and less intrusive solution over hanging bars, racks, and having your newly washed clothes fall on the ground off those door jams just to get all full of pet hair or wrinkled all over again.
Make sure you have the right sized hanger, too many time we use that smaller hanger from the clothing store that came with the outfit and our sweater has those weird bumps/wrinkles in the shoulders because the hanger was not big enough and the sweater dried funny.
If your using a clothes line or bar do not fold clothes over the line unless you want that funny looking dry line across whatever it is that your wearing, try instead to hanger dry or use clothes pins and hang from the seams of the article of clothing.
So many people have complained on hang drying clothes being too stiff or they have that cardboard feeling, so adding a fabric softener or better yet and less intrusive adding 1/2 a cup of vinegar to your load before your rinse cycle starts can prevent any clothing stiffness.
We hope these few small tips help with your hang drying, please let us know what tips and tricks you use!