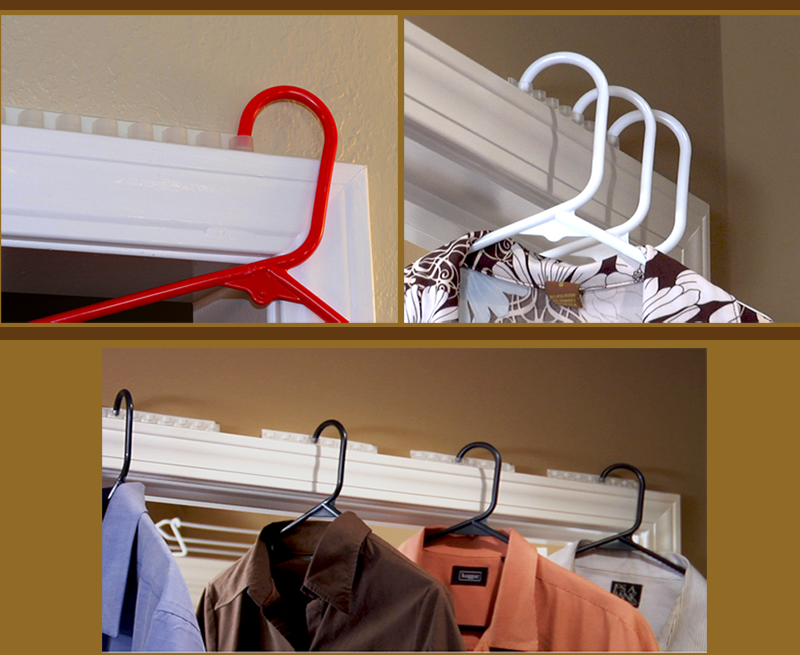 Looking for laundry ideas?
Hang with us and learn more.
Introducing an ingenious new way to simplify your laundry room routine. It's called Hanger Station. Just install one or more Hanger Stations atop a door frame and suddenly, you have a secure spot to hang your garments that are on hangers. You can actually forget about them falling down as they so often do when you've tried hooking a hanger onto that door frame. When you brush past them, down they come. But that won't happen with Hanger Station because it has deep cups specifically designed for holding hangers.
Maybe you are ironing and need a place to put those freshly ironed clothes… or you just pulled some delicates out of the wash and need somewhere for them to hang dry them, or just to you can have your hands free. Maybe you're getting ready for a night on the town or packing for a trip and want to start mixing and matching outfits where you can easily see them. Or maybe you're organizing a dorm room that's short on closet space. The last thing you want is to have them tumble down and get wrinkled just because you didn't have them balanced just right…